If you are a hardcore gamer and have shifted to windows 8, you must have faced this issue of running games in a square window with black borders on sides. This problem usually arises if you are on a laptop or even a desktop with wide screen.
By default windows 8 do not run most of the games in widescreen resolution so you get black borders on the left and right sides of the screen. If you have built-in nvidia or ATI graphics card, those do come with a management panel that have the option to maintain the aspect ratio and stretch things to full screen on a wide screen resolution even if they do not support it.
So this tutorial is specifically made for Intel Graphics card that are not able to stretch things on full screen and run full screen games on a squared resolution. All you have to do is to follow these easy steps and you will be good to play full screen games.
First of all right click on your desktop and go to change resolution settings, and set your resolution to the minimum available resolution.
Once you have switched your resolution to the lowest available settings there, you will also see and option: Advanced settings. Click on that and you will be presented with the following dialogue box.
Switch to Intel (R) Graphics and Media Control Panel tab and in the Scaling options, set it to Scale Full Screen. Save your settings and now all you need to do is to switch back to your default resolution i.e. the one you generally use.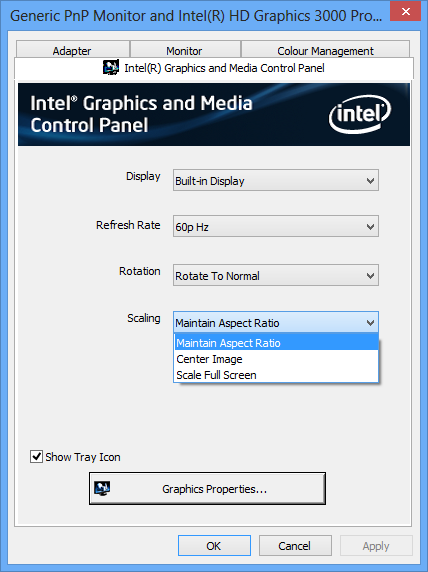 From now on you will be able to run all the games in full screen mode without any borders. This method will also make those games full screen even if they do not have aspect ratio options in there video settings.
If you like this post then you may also like receiving latest stories, tweaks
and tutorials about Windows 8 in your email daily. Click here to Subscribe